Retirement village: Reap what you sow, Angelo Xuereb urges retirees
As we grow older and enter different phases in our lives, we go through various challenges including in our long working careers. But there comes a time when we should reap what we sow since it would be useless working if we didn't do that, business magnate Angelo Xuereb said.
Mr Xuereb said the concept of a retirement village, a first for Malta, gives the opportunity to people who want to really live life to the full and to get to socialise in a village which is much more than a neighbourhood.
"The complex will offer some 133 deluxe apartments and penthouses with extensive views in a 17,000sqm development a stone's throw away from Naxxar's village core. But not only that, if tenants end up immobile at some point in their lives, they can choose to move in to a state-of-the-art licensed residential care home next door that is entirely independent from the village," he said.
Mr Xuereb said that the village gives you a feeling that you are in a luxurious resort and not in an ordinary elderly care home.
"We tried to avoid as much as possible having anything attributed to elderly care homes such as staircase lifts or bed lifts. I am not saying that elderly people who find it hard to navigate stairs safely won't have assistance," he said.
During the interview, Mr Xuereb came across as having the genuine desire to provide the perfect solution to people who may end up lonely, or couples who are seeking to live in a luxurious village but having the necessary assistance in place, the opportunity to do so in the safest of environments.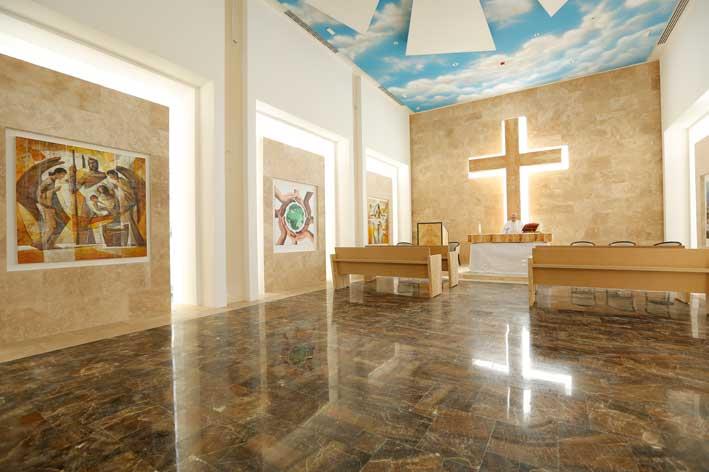 "When people grow old, they end up vulnerable and start to fear that one day they can end up victims of a burglary. This village is as safe as can be.
"Some may end up lonely but do not bother to seek company; the retirement village concept is their answer to their loneliness since they can socialise," he said.
The village also hosts a lounge area, and outdoor pool and relaxation area, a crafts centre, a multipurpose hall and a busy activity schedule, a billiard and darts room, a clinical centre, a library a wellness centre and spa, hair salon, a restaurant and bar bistro, children's indoor and outdoor play areas, a mini market, garden allotments – an opportunity to grow your own fruit and vegetables, a fitness centre a shuttle service, the list is endless.
Each apartment has its own terrace, a kitchen and the bedrooms are spacious.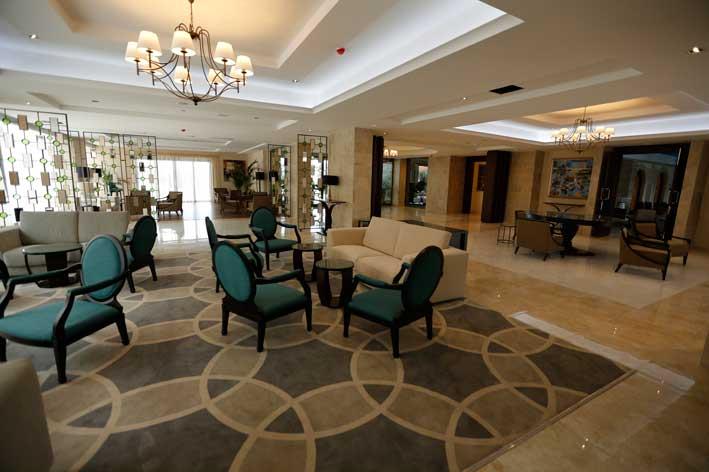 A purposely designed chapel to offer a feeling of tranquillity is situated in the heart of the village. The design is based on Mr Xuereb's ideas. The Cross, for instance, is positioned in a way that the sun's beams light up the cross which reflect on the Onix flooring.
"There's plenty of light and the chapel is surrounded by water. It gives you a feeling that the chapel is on the water. One can also admire the swans gliding over the chapel," he said.
"If it were up to me, the word ta' xjuh (a place for the elderly) should not exist. This place is a retirement village for those people who would have worked for some 40 years and who want to make the most of what they worked all those years for," he said.
He continued: "Let's say a person living in the five-star plus village suffers a stroke some five years after purchasing an apartment, he can be transferred to the residential care residence next door and the person will be assisted by a multidisciplinary team," he explained.
The maximum the retirement home and village can take up to some 300 persons. The apartments can either be rented or purchased but up to a maximum of 50 years. In the event a person decides to continue living in the residential home next door to the village, he or she can utilise the funds he would have spent on the apartment for medical care and accommodation or choose to rent it out to third persons.
Mr Xuereb said that dementia patients will be allocated to a section of the home which is specially equipped for such patients.
Making Things Happen

For a better Valletta